Profile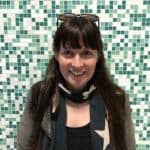 Lucy Maddox
Thanks to all the students for the fantastic questions and the IAS team for organising so brilliantly. I've loved getting the questions and reading the other scientists' answers too :)
My CV
Education

I went to a Devon comprehensive school called KEVICS in Totnes, then I went to Oxford University to do a BA, King's College University to do an MSc, and UCL to train to be a clinical psychologist.

Qualifications

3 A levels in English, Chemistry & History; BA (Hons) in Psychology, Philosophy & Physiology; MSc in Neuroscience; Doctorate in Clinical Psychology.

Work History

Lots of different places including the Maudsley Hospital in London, the Bethlem Hospital in Kent and the Anna Freud Centre in London.

Current Job

Freelance Clinical Psychologist and I also work at Action for Children. Part time Senior Clinical Advisor for the British Association for Behavioural and Cognitive Psychotherapies.

Employer
About Me:

Clinical psychologist, writer, loves cats, likes tap-dancing.

Read more

I live in Bristol, I moved here a few years ago. I have a grey cat called Baba Ganoush. I work in a few different jobs, all related to psychology. I work three days a week for a charity that helps explain cognitive behavioural therapy, or CBT, to a wider audience. I do creative projects and some work on policy for them. I also work clinically with young people, adults and foster carers. I do a little bit of research, at the moment I am writing my ethics application for a research study asking young people and staff in adolescent inpatient mental health wards what they think makes good and kind care.

On the side I love to write – I wrote a book about how our childhood affect who we are as adults (called Blueprint: How Our Childhood Makes Us Who We Are) and I'm about to write a book about mental health (called What is Mental Health?) for 10 year olds and above. So any ideas for what should go in that are really welcome!

This is Baba Ganoush

My Work:

I'm a clinical psychologist and writer. I use talking therapies and psychology ideas to help people with tricky problems.

Read more

Three days a week I work for a charity called the British Association for Behavioural and Cognitive Psychotherapies (BABCP). I work from home in Bristol, unless I'm travelling to represent the charity at meetings. One day a week I work seeing people who are bringing different problems they would like help with from a consulting room which has nice rugs in it. One day a week I work at Action for Children with foster carers and social workers. Here's the room I work in on Mondays:

My Typical Day:

Clinical days I see lots of different people, other days are more at home or travelling.

Read more

It depends which job I'm working in. A typical clinical day I go to work and see several people, and try to help them apply ideas from psychology to tricky problems they have.

On a non-clinical day I might be at a meeting, or doing a lot of emailing or writing up projects – like one at the moment on how to better involve people who have had CBT in what the charity I work for does.

If I'm writing something like a book or an article then I'll usually be at home with the cat, or sometimes in a cafe.

What I'd do with the prize money:

I'd put it towards a creative project made with young people for young people about what cognitive behavioural therapy (CBT) is and how it can be useful.

Read more

I'd like to use the money to involve young people in a project to help explain cognitive behavioural therapy (CBT) to young people in an accessible way.

It could be an art project, an audio recording or a film, I'm not sure, but I'd like it to be produced together with young people.
My Interview

How would you describe yourself in 3 words?

Friendly, thoughtful, fun.

What or who inspired you to follow your career?

It wasn't one person - it was more that the bits I liked about the things I studied or jobs I had to begin with were all about people and their stories.

What was your favourite subject at school?

I always liked both English and Chemistry - I didn't like having to choose between artier subjects and more sciencey ones.

What did you want to be after you left school?

This changed all the time. I didn't know when I left school, or even when I left university, but I think if you do things you like and are curious about you end up in a job you will like.

Were you ever in trouble at school?

Mostly I was really well-behaved but I did get into trouble a couple of times.

If you weren't doing this job, what would you choose instead?

TV producer.

Who is your favourite singer or band?

Not sure I have a favourite. I like folky stuff and reggae and jazz.

What's your favourite food?

Mashed potato. Yum.

What is the most fun thing you've done?

Crikey that's hard! I've done lots of fun things - one of them was living in Paris for a year just after university with my friend Katie. We moved out there not really knowing what we were doing and had an amazing year learning to speak French and eating a lot of cheese.

If you had 3 wishes for yourself what would they be? - be honest!

To have more time for writing, to have more holidays, to spend more time with people I love.

Tell us a joke.

What did the banana say to the dog? Nothing, bananas can't talk.
My profile link:
https://ias.im/u.210786
---
---