Profile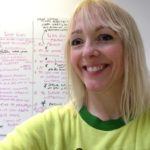 Louise Rodgers
My CV
Education

I went to Anlaby Primary School (near Hull) and St Mary's secondary school and sixth form, where I did A Levels in English Literature, Politics, Theology and General Studies.

Qualifications

Theology/Philosophy degree from Oxford University, PGCE (teaching qualification) from Hull University, Psychology degree from the Open University. I also (somewhat randomly) have a GCSE in Astronomy which I did at night class a few years ago, and a University Foundation Award in the Arab/Israeli conflict which I did at night class at Hull University a few years ago too. When I was working in offshore finance I had to do exams in accountancy and company law but I can't remember much of it now!

Work History

I used to be a primary school teacher; before that I was a Trade Union Steward and before that I was in offshore banking in the Channel Islands. I've also been a Nanny, a Shop Assistant, Barmaid and a Waitress in a Masonic Lodge … all sorts when I was a teenager and student.

Current Job

Employer

I work for an independent Educational Psychology organisation. This is quite unusual as most people working in Educational Psychology work for Local Authorities (Councils).

We work with schools and education settings, young people and their families to find and remove barriers to learning. By doing this, we help young people to learn better, socialise more easily and ultimately become happier, more independent learners.

https://www.appliedpsychologies.com
About Me:

I'm psychologist and Mum and I've done a lot of other jobs too!

Read more

I live near Hull with 4 guinea pigs (Barry Sparkle, Zeus, Gingernut and Poseidon), 2 children (aged 7 and 9), 1 hamster (Aries) and 1 husband. I did not name any of the pets. I don't get out much and so I become visibly excited at the mention of visiting cool places like castles or Italian restaurants (the greatest pizza ever is blue cheese and pine nuts).

I used to have proper hobbies like fencing, running and customising furniture but now I just make cakes and take my children to their hobbies instead. If I get downtime I am usually watching or reading something about psychology or history, particularly the Vikings, which which I am a bit obsessed. In fact I even get up early most days to do a Viking workout under the direction of the Head Viking at https://www.thevikingmethod.com

I was almost in the upcoming series 3 of Victoria on ITV when I wandered into the area where they were filming  on the High Street in Hull's old town recently. However I am delighted I don't pass as a street urchin and didn't make the cut.

Read more

Being a Graduate Psychologist in an independent Educational Psychology practice is really varied and always interesting. I might be working with or training teachers, or finding out about a young person to help them in education in one of these 4 areas:

learning and thinking
physical
communication
emotions and social life

I usually do this by meeting and working with the young person themselves (as well as the people around them) and finding out about them, their thoughts, their views and their feelings. I have a short time to try to get that person to trust me. If an Educational Psychologist does a good job, they can change children's lives and help them to be happy and achieve at school (and hopefully for the rest of their lives).

I have recently written a book review, helped with developing an app for use in schools to teach basic skills and I often share the day's achievements or interesting observations on social media.

My Typical Day:

Meet a parent, work with a young person, drink lots of coffee, train some teachers in understanding something about children and young people better (hopefully).

Read more

I am sometimes in an office (typing reports, doing research and best of all talking talking talking with colleagues. This helps me to learn, to shape my thoughts and to decide on what I should do with particular children and young people.)

I might have 'supervision', which means talking over the cases I'm working on with a more experienced psychologist and getting their advice.

I am also often in schools and a typical day might include working with a young person, perhaps because they are not learning at the same level as the rest of their class. I would try to find out what's stopping them – maybe testing their memory or reading ability, perhaps exploring what they like and dislike at school or doing a Dynamic Assessment. This is a really useful and interesting way to find out how someone does a task and how they can best be helped by an adult.  It involves the young person copying a complex picture, then seeing what they can remember about it, then working together to come up with ways to remember and draw the picture without missing any bits, and then drawing it again.

Perhaps a child or young person is showing behaviour that the school are concerned about, like hurting others. In this situation I might watch them in one of their lessons or on the playground (hopefully without them realising) before I meet them. This might give me some clues to what happens before they show the behaviour – maybe things others say, or something about the lesson or classroom is causing them to feel worry or fear. When I work with them 1:1 I might try to find out how much they understand and control their own feelings, what their ideal classroom would be like or how they feel about friendships.

Sometimes we work with young people who have special educational needs, such as a diagnosis of an Autism Spectrum Condition, Attention Deficit Hyperactivity Disorder (ADHD) or Dyslexia (although there is a great deal of debate amongst psychologists about whether saying someone has Dyslexia is very scientific or very helpful:  https://www.youtube.com/watch?v=QoSc5Z64B98)

At the end of all of this the aim is to have a tailor-made set of things for the school to do to help that young person be happy and supported and have what they need at school so that they can get on with enjoying all the learning!

If you find yourself thinking about things like:

'why does my friend always do that?'

'why do I like some people more than others?'

'why can I just not get it in that lesson?'

'why do I keep making that same mistake over and over?'

then maybe you are a psychologist too!

Working with young people is really interesting and fun but its also a great privilege to have their time and highly confidential, so I can't put any pictures up of me working with any. I've put up some pictures of my office, although its not quite as exciting. Unless my boss brings his dog in.

What I'd do with the prize money:

Make sure children and young people have exciting and working science equipment

Read more

I work in some quite deprived schools, where there is not enough money for resources, and science lessons include a lot of worksheets and powerpoints! So I would love to give the £500 to a local school to spend on science equipment and resources that they can't afford, which would help the young people there to learn in a more practical, exciting and hands-on way.
My Interview

How would you describe yourself in 3 words?

Really very stubborn

What or who inspired you to follow your career?

I have worked with a lot of inspirational EPs who I learn from all the time, but I very rarely think about famous Psychologists from history and try to emulate them. Having said that I remember how my thinking was suddenly altered when I read the feminist psychologist Frances Cherry's writing about the famous murder of Kitty Genovese, which all psychology students become familiar with https://en.wikipedia.org/wiki/Murder_of_Kitty_Genovese It made me realise that there is more than one way to view human interactions and psychology in general, which was huge to me.

What was your favourite subject at school?

RE because I loved the philosophical questions, the debates and the thinking about thinking part of it.

What did you want to be after you left school?

The Prime Minister (I still don't think I've completely ruled this out)

Were you ever in trouble at school?

No! (My parents may be reading this)

If you weren't doing this job, what would you choose instead?

Museum Curator

Who is your favourite singer or band?

Janis Joplin, Amy Winehouse, Madonna ...

What's your favourite food?

Cheese. All of it. Except the spray stuff in cans.

What is the most fun thing you've done?

Having children - they are so much fun and a never-ending source of entertainment, jokes, shows and weird questions.

If you had 3 wishes for yourself what would they be? - be honest!

More than 24 hours in the day, a nice lottery win and the ability to go back to any time in my children's lives and have a day with their baby or toddler selves all over again.

Tell us a joke.

How did Pavlov make his hair so soft? He conditioned it!
My profile link:
https://ias.im/u.210785
---
---