Profile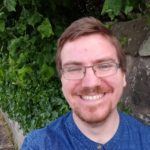 James Munro
Thank you all for a wonderful experience! I can't wait to use the prize to further science education!
My CV
Education

Queen Anne High School: 2001 – 2006. Abertay University Dundee: 2007 – 2011. University of Roehampton London: 2012 – 2016

Qualifications

BSc Psychology. PhD Cognitive Neuroscience

Work History

University of Roehampton London, London South Bank University, Royal Holloway University of London, University of Leicester, Edinburgh Napier University

Current Job

Employer

Edinburgh Napier University
About Me:

Self-isolated and doing my part to keep things running from home.

Read more

I live in Edinburgh and work at Napier University. I have an old lady rat (Stiltzkin!) who hangs out on my desk nibbling snacks while I'm doing I'm a Scientist. I love when other people laugh so hard they can't talk. My friends and I like to play puzzle games together. You can refer to me as he/his, and you will always find me enthusiastic to hear awful jokes.

Follow all the advice about Coronavirus. It is so important for your safety, for your loved ones and for society.

My Work:

I research the human brain, and the criminal justice system.

Read more

I am interested in relationships and the amazing way human beings can work together to do incredible things they could not do alone. One person isn't enough to form an orchestra or build a skyscraper. Right now I am working on many projects with many other scientists. We know that human brains control how we move, what we think about, what things we like and don't like. Parts of the brain also seem to sense these things in other people, and help us to understand them. These brain parts help us learn skills from each other (like piano-playing or football) and let us work together more easily. We don't yet understand how these parts of the brain work, so I am doing this research!

My Typical Day:

Right now – I work from home due to self – isolation.

Read more

Right now – I work from home due to self – isolation. I schedule my day so I have working hours and play hours. When I am not working, I play a lot of video games, read a lot of books and do woodwork. I also play with my pet rat.

My science does not really have a typical day! Every day I will be working with new participants, visiting different labs, teaching students or training other scientists. Sometimes my experiments go well, the ideas flow easily and I get a lot done. Other times I am stuck on a problem for weeks or months. Most days I am looking at pictures of brains and working out what they are doing in response to my tests. I will be ignoring big piles of emails until I have solved that puzzle. It is exciting to have so much variety in my job – especially when I am exploring things that have never been explored. Who knows where they shall lead!

What I'd do with the prize money:

Not here for a prize anymore :). Here to spread the word about coronavirus and keep education running.

Read more

Not here for a prize anymore :). Here to spread the word about coronavirus and keep education running.
My Interview

How would you describe yourself in 3 words?

Hungry, Lazy, Curious

What or who inspired you to follow your career?

My friends and family members who were sad because they felt "different" and didn't know why. I wanted to find out what "different" meant, and be able to explain why it isn't the same as being "wrong".

What was your favourite subject at school?

I really loved Biology, but my secret favourite was music. I learned to play the saxophone when I should have been learning how eyes worked!

What did you want to be after you left school?

I wanted to be a history documentary presenter so I could be paid to travel the world and learn about all the big and small events that got us here today.

Were you ever in trouble at school?

I kept on ignoring pieces of homework because I really wanted to play video games. I kept getting lines as punishment. I still remember: "Homework is an essential part of my maths education."

If you weren't doing this job, what would you choose instead?

I would use the programming and computer skills I have learned to work with artificial intelligence. It would be cool to work on creating robot minds instead of working on understanding human ones.

Who is your favourite singer or band?

Frank Turner - He tells stories in his songs, and sings equally about good and bad times which makes him feel honest and real to me.

What's your favourite food?

Everything Japanese: Ramen, sushi, bento. Man I love Japanese food.

What is the most fun thing you've done?

I once spent a week in a cabin in Norway with many friends my own age. We danced every night, had big bonfires and went canoing on the rivers and lakes. Freedom, nature and a safe place to be idiots.

If you had 3 wishes for yourself what would they be? - be honest!

1. I would wish for a helicopter, so I could travel anywhere quickly and land wherever I wanted. 2. I wish that "normal" was not so important to people, because differences are beautiful and fascinating. "Normal" often just means what the powerful say it means. 3. I would wish for an endless supply of pot noodles. Guilty pleasure.

Tell us a joke.

How many psychologists does it take to change a lightbulb? One, but the lightbulb has to want to change.
My profile link:
https://ias.im/u.210821
---
---
---